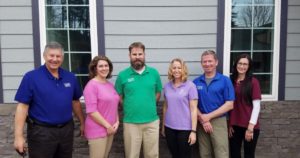 (Left to right: Reese Lasher, Jennifer Banks, Zach Banks, Tricia Ward, Curt Roth, and Jourdan Wehn)

Zach Banks

Owner
Zach Banks has been building homes in the Asheville area since 2002. Zach grew up on a local farm where he acquired an appreciation for hard work and common sense. A graduate of North Carolina State University, Zach began his career as part of a framing crew and worked his way up to becoming a fully licensed general contractor. Consequently, he understands the "nuts and bolts" of building a home.
While these days his most useful tool is his laptop, he still enjoys the feel of a hammer in his hand. When Zach isn't working, he can be found spending time with his wife and young kids – perhaps on a hike, at a ball game, or at church and on really special days, he is fishing at Corner Rock Creek.
________________________________________________________________________________
Curt Roth

Project Manager
As the newest member of Corner Rock Building Company, Curt brings a new dynamic to the team. With over 18 years of construction experience, Curt's skill and knowledge of building adds an excellent touch to the company. Curt began his career in construction off the coast of Maine, working on beautiful cottage style homes that dot the Northeast coastline. There he learned to deal with and work in the adverse elements of the coast.
After graduating from the University of New England, Curt moved back to the Southeast where he became the general manager of the Nantahala Outdoor Center. Curt was primarily responsible for managing staff, zip lining, whitewater rafting, and outdoor adventure activities. He then went back to pursuing his passion of building quality homes. Today, Curt takes his experience of building in coastal elements and brings that knowledge to building in the mountains. When Curt is not working for Corner Rock Building Company, he can be found hiking or kayaking in the beautiful Smoky Mountains.
________________________________________________________________________________
Tricia Ward

Office Manager
As a native of Weaverville, North Carolina, Tricia continues to make her home there with her daughter. She received her Bachelors in Accounting at Meredith College in Raleigh, North Carolina in 1996. She began her career in the public accounting world but later found she enjoys the private side better.
________________________________________________________________________________
Jourdan Wehn

Designer & Marketing
Jourdan is a newcomer to the beautiful Asheville, North Carolina. A native to Baltimore, Maryland, she relocated to West Asheville in 2017. In 2013, she received her Bachelors in Graphic Design at Towson University of Maryland. Since graduating, Jourdan has worked in various industries centered on design and marketing. As part of the team, Jourdan assists with various office duties, handles a majority of the design work from creating marketing pieces to editing websites and home plans. When Jourdan is not working, you can find her hiking Asheville trails, enjoying live music around town, or spending time with her husband.